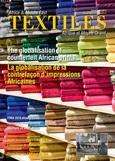 Africa and Middle East Textiles covers the key developments and core concerns relating to textile and apparel industries, providing an indispensable insight into the issues affecting one of the most vibrant business communities within Africa and the Middle East.
We have established an enviable reputation for the breadth and depth of our editorial content, which contains the latest industry developments, country reports, sector surveys, technical feature articles, exhibitions, previews, product launches and interviews with leading business figures.
Established in 1979, Africa and Middle East Textiles has continued to grow in stature, building up a circulation of more than 10,000. The magazine is read by garment manufacturers, textile mills, importers, distributors, development organisations, and government and diplomatic decision makers.
With an unrivalled circulation, reputation and readership, Africa and Middle East Textiles is the commercial choice for advertisers around the world today.
Click here to read the latest digital issue of African and Middle East Textiles

Click here to read previous digital issues of African and Middle East Textiles

Reach the audience that matters
Create campaigns with a rich variety of media offerings, including:
- Print advertising
- E-newsletters
- Web advertising
- Online digital brochures
- Webinars
For full details of our advertising packages, please click here to contact us.