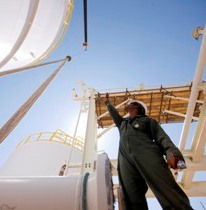 The need to provide employment and services for fast-growing populations is driving massive government spending across the Middle East. Investment potential is significant and growing as many of the region's economies embark on ambitious development strategies with a strong emphasis on diversification.
Infrastructure will be the key driver for this development, but economic growth is driving opportunities across many different sectors, from power, communications and manufacturing to IT, renewables, logistics and many more.
Publications from Alain Charles Publishing Ltd. track progress in all these sectors. In fact, we have been reporting on the region's economic developments for more than three decades. Our first Middle East business magazine, Technical Review Middle East, was launched in 1984. Today it is one of the best-known sources of news and analysis across the many countries and industries that make up this vibrant and complex region.
Oil and gas, however, remain a key focus for investment and economic activity throughout the Middle East and North Africa. That is why Technical Review Middle East has in recent years been joined by Oil Review Middle East. First published in 1997, Oil Review Middle East is a leading resource for oil and gas professionals and decision makers within the region and beyond.
For full details of our advertising packages, please click here to contact us.